ADOLF HITLER'S LEGENDARY BOOK MEIN KAMPF IMMEDIATELY SELLS OUT IN GERMANY
You don't have to be a 'Nazi' to understand what Hitler was trying to do; he was seeking to end Jewish control of Germany. ask yourself this…is germany better off now after ww2 ? would a post ww2 national socialist germany be flooding their borders with third world migrants allowing them to rape their german women ? i think not
Adolf Hitler's legendary book Mein Kampf sold out immediately when it went on sale for the first time since World War II.  I bet with these rapeugees running around in Germany, the German people are going to rediscover the fact that Hitler was right about many things.
One thing is for sure, Hitler and the National Socialists would have never allowed millions of subhuman savages to invade their land.  They certainly wouldn't have tolerated them sexually assaulting German women.  The SS would have taken care of that situation in short order.
From Daily Mail:
Adolf Hitler's autobiography Mein Kampf was an instant sellout when it hit bookstores in Germany for the first time since the Second World War.
More than 15,000 advance orders were placed, despite the initial print of 4,000 copies, with one copy even put up for resale on Amazon.de for €9,999.99 (£7,521.43).
Mein Kampf, which means My Struggle, returned into the public domain on January 1.
GERMAN MINISTER SAYS 10 MILLION MORE SUBHUMAN SAVAGES ARE ON THE WAY TO EUROPE
smoloko note – no we're not spreading Islamophobia here, But I cannot sit idly by and remain silent any longer on  REPORT after REPORT of German women and YOUNG cHILDREN getting raped by these third-world IMMIGRANTS .  Merkel needs hung for treason, no joke. The fat bitch is putting a knife straight in the heart of Germany and the once great nation is on life-support now. Obviously this migrant savagery and clash of cultures in Europe is a result of the jew contrived third-world debt crisis and the intentional Zionist destabilization of the middle-east and northern africa (GREATER ISRAEL PLAN) and blame shouldn't be squarely placed on all migrants including Muslims, but on the traitorous jew puppet EU leaders who have accepted these 'refugees' into their countries on behalf of the jewish lobby groups pushing open border policies which now the citizens are paying the heavy consequences for. 
Germany's Development Minister is warning that 10 million more subhuman savages are on the way to Europe.
If this turns out to be true, the only outcome will be all out race war across the continent.
Europe's borders must be militarized.  Invaders should be shot if they refuse to comply with orders to turn around.  All non-Whites now in Europe need to be rounded up and deported.
From Kikebart:
Europe has barely even seen the start of the migrant influx, Germany's Development Minister has warned.
Gerd Müller said only 10 per cent of Syrian and Iraqi migrants have reached Europe so far and "eight to ten million are still on the way", with even more to come from Africa.
"The biggest movements are ahead: Africa's population will double in the coming decades," he told Bild am Sonntag, adding: "In the Sahara up to one million people have died trying to escape."
The European Commission, he added, has lost a significant amount of authority thanks to the crisis. "The protection of external borders is not working. Schengen has collapsed. A fair distribution of refugees has not taken place," he said.
HILLARY SAYS SHE'D EMULATE WHITE GENOCIDE ARCHITECT ANGELA MERKEL AS PRESIDENT
Hillary has now said that she would emulate White genocide architect Angela Merkel as President.  Merkel is perhaps one of the most evil creatures on the entire planet.  The fact that Hillary has openly stated that she would mirror what Merkel is doing is completely insane.
We need to do everything we can to ensure that this evil bitch doesn't become President.
From Time:
Any particular foreign leader whose executive stewardship you admire and might want to emulate as president?
Well, I have to say that I highly admire Angela Merkel. I've known Angela since the 1990s, she and I actually appeared on a German TV show together. I have spent personal time with her. She is, I think, a really effective strong leader and really right now the major leader in Europe, not just in Germany. I admire her political skills and her principles, her strong work ethic. I just find her to be an incredibly important person in the world today and I look to her to see how she's managed it.
update – 
bElow – RIGHT NOW IN DRESDEN (6:40 AM)
OVER 30.000 AT PEGIDA ANTI-IMMIGRANT / ANTI MERKEL RALLY.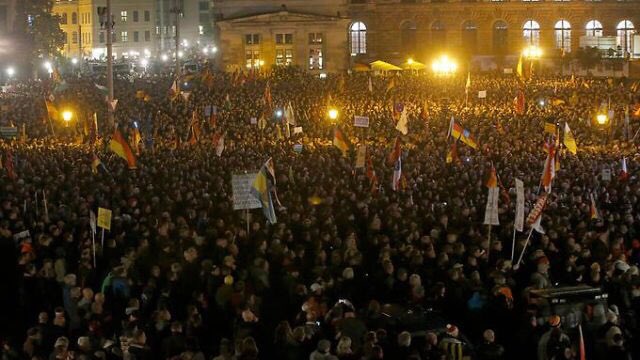 see also –
Frightening VIDEO documents Illuminati Jewish inspired migrant invasion of Europe-
related –